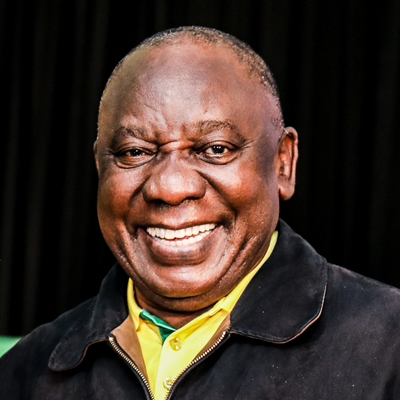 Comrade Matamela Cyril Ramaphosa has been elected President of the African National Congress at its 54th National Conference in Nasrec, Soweto, on 18 December 2017. He is the 13th President of the ANC since its founding. Before his election, he served as the Deputy President of the ANC under the leadership of President Jacob Zuma as part of the National Executive Committee of the ANC as elected in 2012. He is the current Deputy President of the Republic of South Africa in the ANC's fifth administration in government.
Comrade Cyril Ramaphosa has served in the National Executive Committee of the ANC for 26 years. He was elected to the position of ANC Secretary-General at the 1991 National Conference, the first conference of the ANC in the country after unbanning, under the Presidency of Nelson Mandela.
He began his political activism in the 1970s during the period of students uprisings in the country, organised behind the banner of the black consciousness movement, which came to head during the 16 June 1976 massacre.
His election into the ANC and especially to the position of Secretary-General followed his reputation as an effective organiser and trade union leader following his term as General Secretary of the National Union of Mineworkers (NUM). He led the founding processes of the NUM and went on to lead the union to stage one of the biggest and most effective industrial strikes in South Africa in 1987, leading to a three weeks shutdown of the entire mining industry. He emerged out of that political standoff between labour and capital as a renowned negotiator, reputed for his tough approach and ability to push a hard bargain whilst maintaining the respect of his opponents.
As part of his role as Secretary-general, he served as Chief Negotiator for the ANC at the Congress for a Democratic South Africa (CODESA) at which the framework for a democratic transition was being mapped out. His experience as a negotiator in industrial conflicts asserted him as one of the key players in breaking stalemates and initiating strategic areas of consensus between opposing parties in that process.
After the first democratic elections in 1994, Comrade Cyril Ramaphosa was deployed in Parliament by the ANC and was elected as Chairperson of the Constitutional Assembly tasked with drafting the new Constitution of the Republic of South Africa. He was re-elected as Secretary-General of the ANC in its 49th National Conference in 1994.